Leadership Change
Posted by Leading Edge Business Referrals on 3 April 2019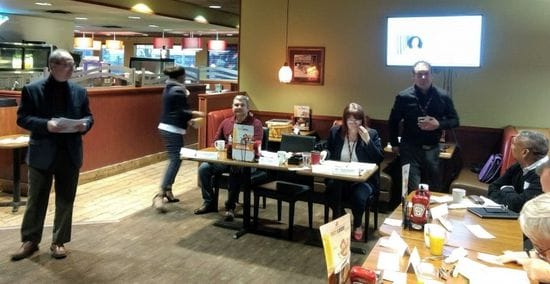 Every year on April 1st, a new Executive Leadership Team takes over the management of the chapter from the previous administration. This is a standard part of BNI policies.
For the last meeting of the BNI year, both Executive Leadership Teams share the stage to facilitate a smooth transition and to ensure a steady flow of business referrals between the members, whose businesses are typically located in Mississauga and Brampton, but some are also Etobicoke-based.
The members of the BNI Leading Edge chapter would like to thank the outgoing leadership team for their dedicated service in the past year:
Saverio DiMondo, President (standing on left)
Wendy Beatty, Vice-President (not shown)
Patrica Ramoutar-Ramsawak, Secretary-Treasurer (walking on the left)
The chapter also welcomes the new leadership team:
Dr. Serge Lanoue, President (standing on right)
Charlene Souster-Morris, Vice-President (seated)
Krishna Menon, Secretary-Treasurer (seated)

The chapter is always looking for great partners to share referrals with, so that we can help each other grow our respective businesses. If you're interested in growing your business, or know someone who does, please contact us!
Author:
Leading Edge Business Referrals
About: We are a group of committed business people dedicated to helping one another grow our businesses through referrals since 1995. We are looking for like-minded business people to join us and exchange referrals with. Come and see if Leading Edge Business Referrals can help you grow YOUR business.
Connect via:
Post comment