Visitor Day Report: A Roaring Success
Posted by BNI Leading Edge on 20 June 2016
On June 9th, there were 13 visitors that attended our BNI Leading Edge chapter's Visitor Day, and that meant amazing networking opportunities for 40 people to gorw their respective businesses. We are looking forward to having many of the visitors join the chapter to take their business to the next level.
But the day was not entirely about business, as there was also a special award presentation by Big Brothers Big Sisters of Peel to BNI Golden Horseshoe as the biggest supporter of that charity in the Peel region.
Ella Urquhart (center left), Development Coordinator for Big Brothers Big Sisters of Peel presented the award to Christel Wintels (holding the trophy), Executive Director of BNI Golden Horseshoe. Fred Leblanc (left), BNI Leading Edge chapter member & BNI Ambassador and Brian Johnston (right), volunteer with BIg Brothers Big Sisters of Peel and BNI visitor were also on hand for the award presentation.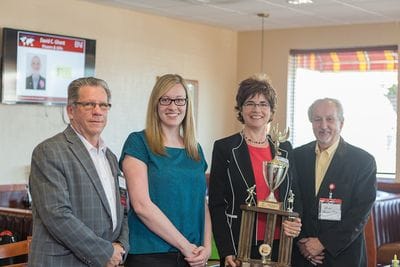 Fred also received an award for being the largest indivudal fundraiser, by coordinating bowl-a-thons and running bingo contests.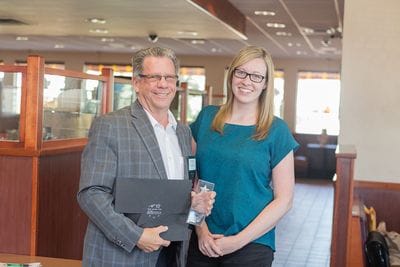 Author:
BNI Leading Edge
About: BNI Leading Edge is Mississauga's preeminent business networking and business referrals group. Come and join us for breakfast, and grow your business!
Connect via:
Post comment