Posted by Leading Edge Business Referrals on 30 September 2020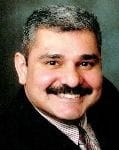 Who is the referral king for the second time this year? Krishna Menon, mortgage agent with Dominion Lending Centres in Milton, that's who.
Krishna is our notable networker for September, having given 13 business referrals to his referral partners last month. He's been able to generate all of these referrals in spite of the COVID slow down since he's always actively netwroking with clients in Milton and Mississauga, as well as prospective clients in Brampton, Oakville and Georgetown. He serves his clients all over the GTA, and has found ways of helping them with their various personal and business needs by referring them to his BNI Leading chapter members.
Take some time to get to know Krishna and find out how he can help your business; it's well worth it!